Shipowners' event: New Blue Innovations
Seminar Together with Innovation Norway and Norwegian Maritime Exporters, we are proud to present:
Shipowners' event: New Blue Innovations - A sneak peak at the future of shipbuilding.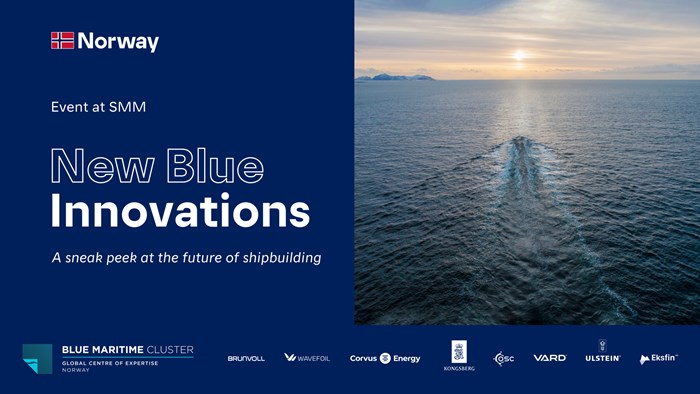 From 6th to 9th of September 2022, maritime industry professionals from all parts of the world, will get the complete overview of innovations from all sectors, and of course they will finally enjoy again the opportunity for live encounters on the exhibition ground as well as in the high-profile trade conferences. You will find us there and we're looking forward to meet you.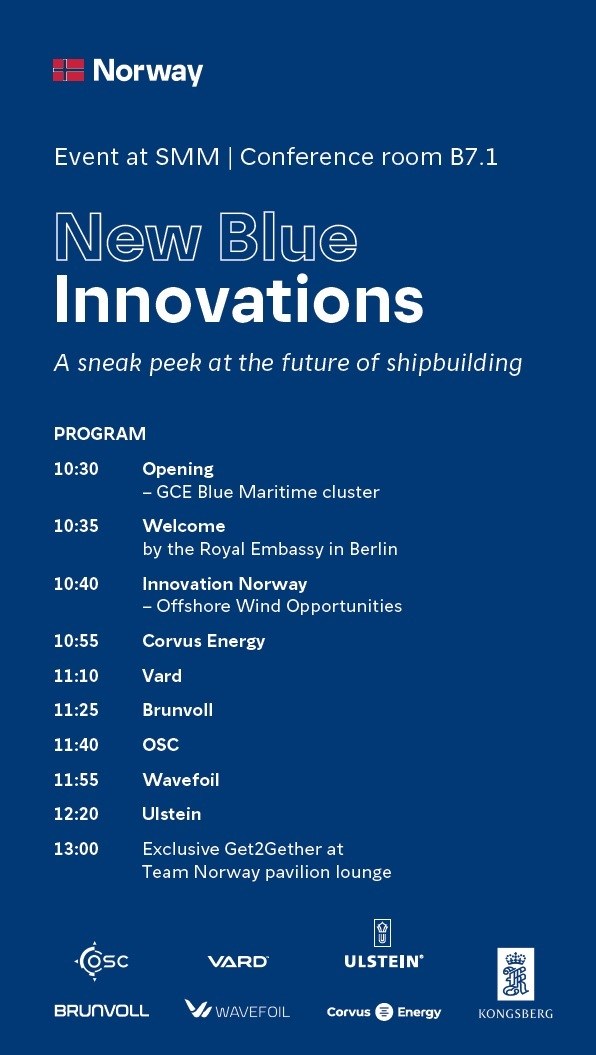 September 8th, Blue Maritime have joined hands with Innovation Norway to arrange a high quality seminar and networking event at SMM.
Leading Norwegian maritime companies will present their newest breakthroughs in sustainable technology.
After the seminar there will be an exclusive Get2Gether at the Norwegian pavilion.
Mark time and place:
Thursday 8. Sept.
Conference room B7.1, Hamburg Messe und Congress GmbH,
Messeplatz 1
10:30 13:00
To register, use form below.
This event could not have been possible without these partners: Eksfin, Innovation Norway, Norwegian Maritime Exporters, Kongsberg Maritime, VARD Group, Brunvoll, OSC, Ulstein Group, Wavefoil and Corvus Energy.
Attending SMM and interesting in participating in the event? Fill out the form below:
Registration for SMM Event