A great Seatrade Miami is over!
The Norwegian Cruise & Ferry Group was exhibiting at the Seatrade Cruise Global tradeshow in Miami this week.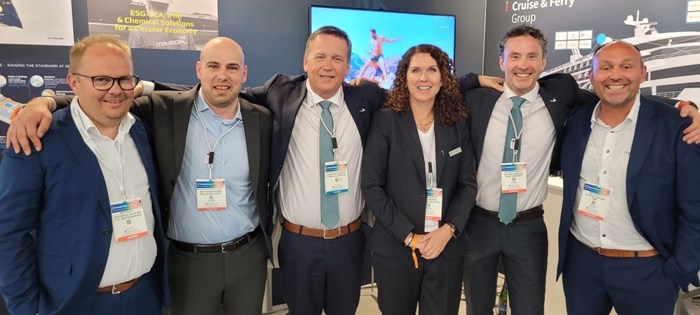 The NCFG team: Jan Rune Dalsøren (Metizoft), Robin Mattson (Saint-Gobain), Lars Ståle Skoge, Torill Muren and Øyvind Gjerde Kamsvåg (all Ulstein) and Øyvind Sungot (Metizoft). 
Photo: Per Kristian Urkedal
A great week is over, as Seatrade Cruise Global 2022 comes to an end. The booth of Norwegian Cruise & Ferry Group was manned by representatives from Ulstein, Saint-Gobain Weber and Metizoft.
-It's really good to be back in Miami again after the pandemic, says the team.
Ulstein With New Concept
Ulstein Group also launched their 'ULSTEIN THOR' at the exhibition - a 149m 3R (Replenishment, Research and Rescue) design which will feature a Thorium Molten Salt Reactor (MSR) to generate vast amounts of clean, safe electricity. This enables the vessel to operate as a mobile power/charging station for a new breed of battery driven cruise ships.
Read more about the concept here.
Norway Pavilion
The Norwegian Pavilion was organised by Norwegian Maritime Exporters Association and Cruise Norway, and besides the NCFG booth, had other great network companies present such as Brunvoll, Jets, Libra, Kongsberg, Ulmatec Pyro, Ekornes and many more.