In2Cruise - Nettverkstreff i Ulsteinvik
Nettverkstreff In2Cruise - Norwegian Cruise and Ferry Group avslutter et innholdsrikt år med et faglig nettverksmøte og påfølgende middag i Ulsteinvik. Arrangementet er for nettverkets medlemsbedrifter og det vil være begrenset antall plasser.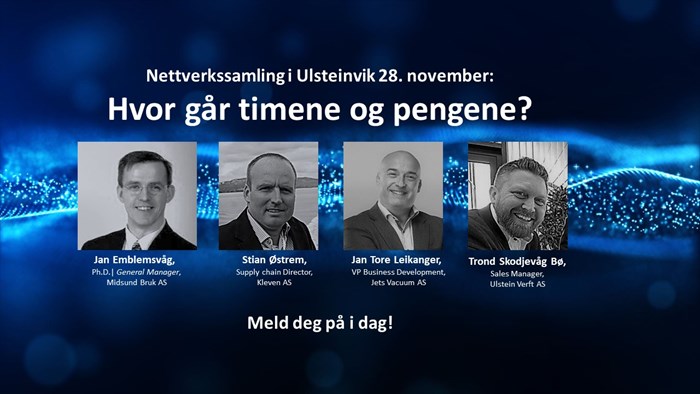 PROGRAM:
Produktivitet og prosjektleveranser mot cruiseindustrien: Hvor går timene og pengene?
Innleder: Jan Emblemsvåg, Ph.D.| General Manager, Midsund Bruk AS
Stian Østrem, Supply chain Director, Kleven AS
Trond Skodjevåg Bø, Sales Manager, Ulstein Verft AS
Jan Tore Leikanger, VP Business Development, Jets Vacuum AS
Diskusjon 
Forslag til kurs: Praktisk prosjektledelse 
Presentasjon av et skreddersydd kurs i to moduler rettet mot planleggere og prosjekteledere 
Seatrade 2020: Status for nettverksinitiativ i samarbeid med NME 
Status påmeldte og plan videre
Markedsanalyser, forskning og utvikling fremover
Kort om hva som er på gang, og hva nettverket ønsker fokus på videre
Om der er andre innspill så hører vi gjerne fra deg! 
For at vi skal kunne planlegge samlingen og middagsarrangementet, er det ønskelig med påmeldingsfrist innen 20. november.
Bli med på In2Cruise nettverkstreff i Ulsteinvik