Møt Rauma Marine Constructions
Informational meeting Norwegian Cruise and Ferry Group inviterer alle medlemmer til et digitalt møte med Rauma Marine Constructions, et stort finsk verft med ordrereserve som strekker seg utover 2025. Alle er også invitert til å søke om digital pitching og B2B matchmaking.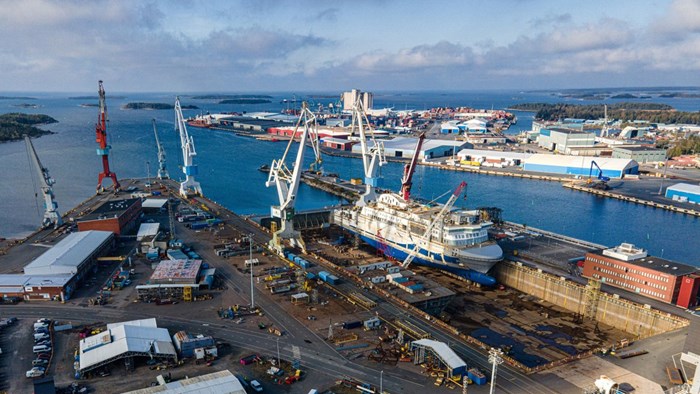 Join us for an unprecedented chance to get in touch with Rauma Marine Constructions Oy, a major Finnish shipyard with order catalogues reaching beyond 2025. The visit to Finland and the shipyard will be digital and include B2B matchmaking sessions where you are able to present your solutions and products to the shipyard, which is in large demand for innovative and efficient solutions for their cruise ships. Read further below about how to apply and join.
Rauma Marine Constructions (RMC) is one of the leading shipbuilding companies in Europe. RMC was formed in the summer of 2014 in Rauma, Finland and is wholly Finnish-owned. RMC specializes in building and servicing icebreakers, car and passenger ferries and naval vessels. Rauma shipyard has supplied to all major ferry operators in Northern Europe, such as Tallink, P&O Ferries, Stena Line, Color Line and Scandlines. RMC is currently building the Aurora Botnia car and passenger ferry for Wasaline, a vessel which will operate between Vaasa, Finland and Umeå, Sweden. In addition, production of the shuttle ferry MyStar for Tallink Grupp, Estonia, started at the Rauma shipyard in April. Furthermore, in autumn 2019, RMC signed a Contract with the Finnish Navy regarding the construction of four multi-role corvettes. For more information, please visit www.rmcfinland.fi
Specific needs of RMC lie within:
Block Fabrication
Pipe work for machinery and deck areas
Ramps and lifting platforms
Interior areas
Electrification, automation, navigation
Machinery
AC- air conditioning
Surface treatment
Steel raw materials
Engineering services
What's in it for me?
By joining this event you have the chance to become a preferred supplier to Rauma Marine Constructions Oy. You will get a fast, easy and unique chance to hear about the upcoming projects of the Rauma shipyard and what there is in it for you. First, you will be able to pitch your added value to them and then get a B2B meeting with the shipyard or with a partner of theirs, where you have the opportunity to go deeper into the value proposition of your solution and match your solution to their needs. Don't miss this chance!
Participation fee
The fee for the finalists participating in the digital event on November 10 is NOK 6.000 (VAT = 0).
Programme:
9:30     Welcome
9:45     Shipyard presentation & need specification
10:15    Company presentations and pitches
10:45    break
11:00    B2B matchmaking (15 minutes per participant)
12:30    End
Apply now
Please send your application as a company one-pager to anna.salmensaari@innovationnorway.no within Friday October 23. 
Include the following information in the one-pager:
Product portfolio & value proposition
Financial key indicators such as turnover, profit, liquidity and solvency
Customer references dating back 5-10 years, preferably also within defense
Contact information, incl organization number and invoicing address
Pre-screening
IN and the shipyard will conduct a pre-screening of the applications within October 27. With the pre-screening we will make sure that all participants provide solutions within the need areas mentioned above. All applicants will be informed about the outcome. All finalists will participate in the whole programme on November 10. For the pitching session the finalists will be asked to prepare a video or Power point presentation, which is to be sent to or shared with anna.salmensaari@innovationnorway.no no later than November 5.
Background information
In December 2019, Innovation Norway Helsinki identified opportunities within the maritime sector, see article here.
This event is arranged by Innovation Norway, NCFG and RMC.
Vilkår for våre arrangementer: 
Innovasjon Norge er behandlingsansvarlig for dine personopplysninger. Se vår personvernerklæring. 
Deltakerlister fra arrangementer i regi av Innovasjon Norge vil kunne offentliggjøres, og/eller bli distribuert mellom deltakerne. Dersom du har spørsmål rundt dette, ta kontakt med arrangementsansvarlig før påmelding.
Innovasjon Norge tolererer ikke diskriminering, trakassering og andre former for krenkende/utilbørlig atferd. Krenkende/utilbørlig atferd vil kunne føre til bortvisning fra arrangementet, straffeansvar og/eller erstatningsansvar.
Vi gjør hva vi kan for å gjennomføre et annonsert arrangement, men avlysninger kan forekomme. Innovasjon Norge er ikke ansvarlig for eventuelle kostnader/tap du eller andre påmeldte måtte bli påført grunnet et avlyst arrangement.