Ground-breaking hydrogen and bio-methanol collaboration
GCE Blue Maritime Cluster congratulates two cluster-companies with a promising collaboration.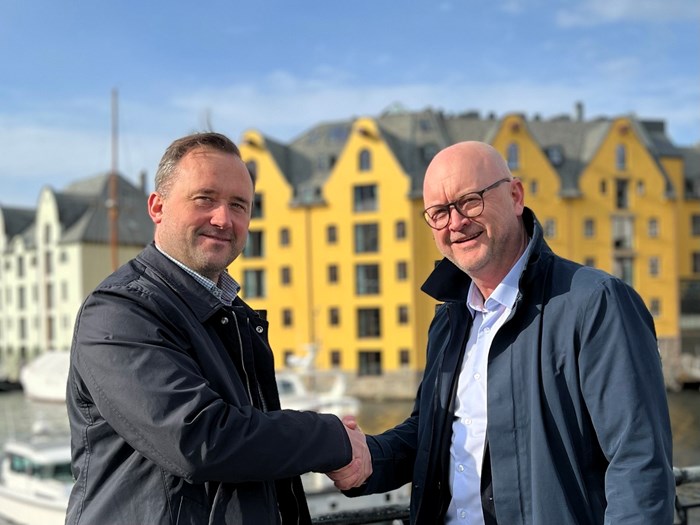 Picture: Jens Berge and Dag Nikolai Ryste.
Ålesund-based Glocal Green and Norwegian Hydrogen have entered into a collaboration agreement on large-scale production of what is also known as bio-e-methanol. While Glocal Green is focusing on the possibilities within bio-methanol as its contribution to the green shift, Norwegian Hydrogen is a company that is producing and building an infrastructure for green hydrogen. The two companies have now come together and identified a very exciting collaboration project.
"This is a win-win situation for both parties, and not least for the environment," says Jens Berge, CEO of Norwegian Hydrogen.
"This is a ground-breaking effective combination for utilising sustainable input factors directed towards two large, global markets that are crying out for solutions that can be adopted today. The bio-methanol energy and hydrogen carrier can already be used as an all-green alternative, whether it be as fuel for transport purposes or as an ingredient in the chemical industry," says Dag Nikolai Ryste, CEO of Glocal Green.
A 100% circular value chain
Glocal Green will produce bio-methanol based on biological waste and residual industrial raw materials that can also be used as fuel for internal combustion engines, and as a hydrogen carrier for fuel cells. According to Dag Nikolai Ryste, CEO of Glocal Green, this is a value chain that can become 100% circular, and the company is now planning production on a large scale. 
"The aim of Glocal Green is to establish the first Norwegian production facility in Øyer Municipality in the County of Innlandet. At the same time, we see the need for further mapping of several locations, and it is fairly easy to envisage that more facilities will be established in Innlandet and elsewhere in Central Norway, in Northwest Norway and further south along the coast. The stationing of locations depends on several factors, where raw materials, logistics and collaborative synergies come into play," says Ryste.
The size of the facilities may vary, but Glocal Green believes that the optimal size is about 100,000 tonnes of annual production per facility. This corresponds to a raw material requirement per facility of approx. 80,000 tonnes of biomass and up to approx. 10,000 tonnes of green hydrogen. The combination allows every energy substance in the biomass to be utilised and transited in a very efficient way. 
"We are currently working on the engineering design process, and construction is expected to start in 2023. Thus, the first deliveries of methanol are planned to take place in 2024," Ryste continues.
The supply of hydrogen will double productivity
Bio-methanol produced from biomass combined with the supply of green hydrogen will have a very positive effect on the production and volume of this highly efficient liquid energy and hydrogen carrier. In fact, to such an extent that if you connect an electrolysis facility at the methanol factory, productivity will be approximately doubled. The product obtained when mixing green hydrogen into the bio-methanol production process is called bio-e-methanol, and this is where Norwegian Hydrogen comes into the picture. 
Norwegian Hydrogen has already announced a number of projects and collaboration agreements relating to their core area – green hydrogen with zero emissions. They clearly see that their product will not only be in demand on vessels and vehicles as energy carriers in the form of pure hydrogen, but also by those developing other forms of zero-emission and low-emission fuels. 
"This is one of the things that makes the possibilities of green hydrogen so exciting," says Jens Berge at Norwegian Hydrogen. 
"You can compress it and use the gas as fuel, cool it down so it is in liquid form, add nitrogen and obtain ammonia, and, as described here; enrich already hydrogen-rich bio-methanol to obtain bio-e-methanol. All hydrogen-rich products to replace fossil alternatives.
The companies now wants start the dialogue about Glocal Green's first factory on Øyer, and establish a plan to locate an electrolysis facility in close proximity to this. Norwegian Hydrogen wants to produce significant amounts of hydrogen for distribution from this facility, so that in addition to meeting Glocal Green's needs of up to 10,000 tonnes annually, they can sell standard compressed hydrogen to other customers in Eastern Norway, either delivered in containers or via their planned filling stations and bunkering facilities. 
Facts about Norwegian Hydrogen AS:
The company was established in 2020 and is headquartered in Ålesund. Norwegian Hydrogen is in a significant growth phase with many ongoing projects supporting the goal of taking a leading role in the establishment of a green hydrogen infrastructure throughout the Nordic region. The Flakk Group, Hexagon Purus, Hofseth International and Tafjord Kraftproduksjon constitute the industrial ownership group in Norwegian Hydrogen.
Facts about Glocal Green AS:
Established in 2020 and headquartered in Ålesund.  The wholly owned subsidiary Glocal Green Innlandet AS will be responsible for the operation of production in Øyer.   
A wholly owned subsidiary called Glocal Green Energy AS has also been established in Ålesund. This company will be responsible for marketing and facilitating user solutions for all-green methanol directed towards a huge, growing market in both the chemical and energy sectors.  https://glocalgreen.com/