Highlights from the Maritime Cluster Conference 2023
The annual Maritime Cluster Conference held on September 21st, 2023, showcased the essential role of innovation in maintaining and strengthening businesses' competitive advantage in the maritime sector. The event attracted over 300 participants, making it a resounding success.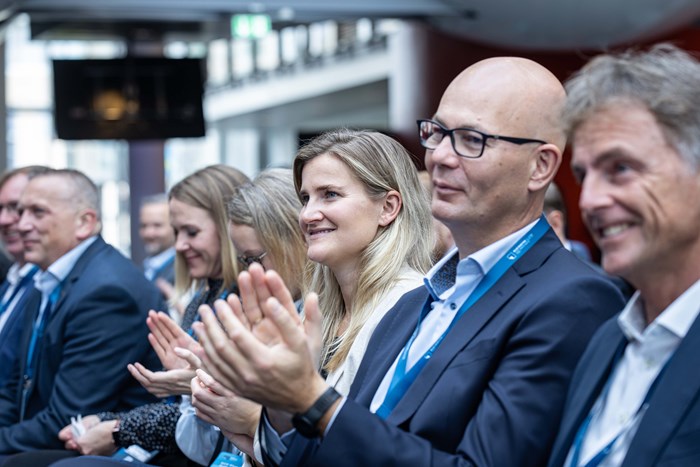 During the event, industry leaders and experts shared their valuable experiences and insights on continuously developing products, solutions, and services that can effectively address upcoming challenges and ensure international competitiveness. Attendees were able to gain unique insights into the current market position, explore innovation as a tangible competitive advantage, and draw inspiration from new launches, projects, and ideas presented by a range of leading experts.
Insights into the Industry's Status
The annual GCE Blue Maritime Cluster Analysis by Erik Jakobsen of Menon Economics provided a fresh update on the cluster's standing. Additionally, Thina Saltvedt, Chief Analyst of Sustainability at Nordea, offered deeper insights and an understanding of the industry's current scenario. Hege Fredheim and Joachim Erlandsen of Grieg Shipbrokers provided valuable insights on the market.
View the highlights from the GCE Blue Maritime Cluster Analysis
Spotlight on Innovation
This year, the conference emphasized the role of innovation as a competitive advantage. During the event, speakers from different sectors shared their reflections and insights from their innovative experiences. 
ABB's Jorulf Nergård spoke about the importance of energy-efficient solutions for ships in the context of green innovation.
Ada Hovind Rødland from Hurtigruten presented the "Sea Zero" project, highlighting its reliance on innovation in concept development.
 Product strategist Per Ivar Selvaag emphasized the significance of taking risks in innovation to gain a competitive edge. 
Collaboration across the cluster is vital for innovation and development
Amrit Bhullar, Senior VP Business Development & Group Innovation, VARD
Blue Maritime Awards Highlight
One of the anticipated moments was the announcement of this year's Blue Maritime Cluster Awards winners.
The "Blue Maritime Cluster Award" was awarded to Per Erik Dalen for his outstanding contribution to the maritime cluster and his role in establishing national cluster programs.
REM Power, designed and constructed by VARD for Rem Purus, won the "Blue Maritime Innovation of the Year". Amrit Bhullar, Senior VP of Business Development & Group Innovation, emphasized that the achievement wasn't just for VARD but for every contributor to the REM Power project. She noted, "Collaboration across the cluster is vital for innovation and development."
The Maritime Cluster Conference 2023 provided inspiration, insights, and essential discussions on innovation and competitiveness in the maritime industry. Thank you to all our collaborators, sponsors, students, and attendees for making this day a success.