More than 70 participants on methanol seminar
Thursday March 2nd, GCE Blue Maritime Cluster invited the industry to a seminar on green methanol.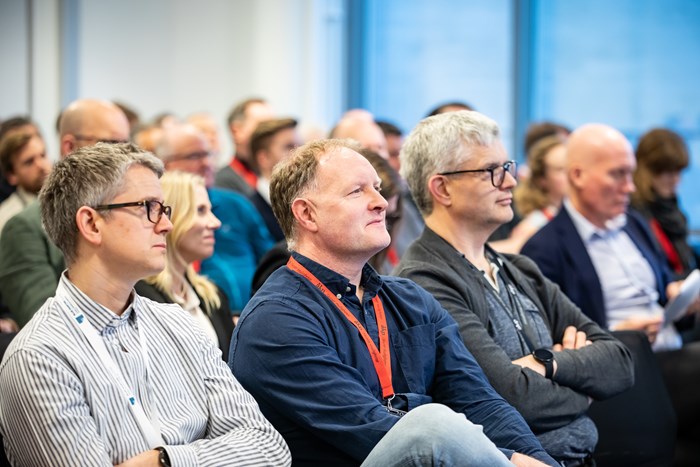 The Blue Maritime cluster is committed through our strategy, the New Blue Deal, to pursue all options in the race towards zero emission shipping, says cluster CEO. The program covered a variety of topics such as production, safety, regulations, engine technology, and design.
In the strategy "New Blue Deal" the cluster have staked out a hairy and audacious goal – to become the world's first zero emission cluster. So far, the greatest challenge is the search for the ultimate fuel which can replace the role of diesel and MGO in shipping. The past months, the cluster have hance arranged a series of activities aiming to boost the competence within the cluster on different fuel options. Thursday March 2nd methanol was in turn, and as a co-host for seminar, the cluster had invited local technology and production company Glocal Green. 
Low-hanging fruit
Glocal Green has ambitions of building production facilities for green methanol, in Norway and beyond. CEO Dag Ryste was pleased with the attendance for the seminar. – Methanol is a probably the closest to a "low hanging fruit" amongst the different fuel options. The interest in the seminar and number of attendees is a sign of this, says Ryste. 
The reasoning as to why methanol is considered the "easier option" is due to existing infrastructure for market supply and available engine technology. Methanol is already a well-known substance in the chemical industry, and even in the maritime industry, and the technology is therefore considered more mature than several of the other fuel options. Methanol is also a relatively low-risk and closer to diesel in handling and storage. 
Technology and pilot projects
With methanol being viable for both combustion engines and fuel-cells, several of the speakers from the industry could disclose that some engine technologies are already available, with more to come within the next few years. Amongst these were Pål Erik Ruan from PonPower/Caterpillar, Bengt Ramne from Scandinaos AB which retrofits Scania engines, and Erik Nesse from BOS Power. In addition, fuel cell stack producers Alma Clean Power was represented with Torleif Stokke, and PowerCell with Stig Kallestad. They both shared insights on their technology developments and maturation. 
Considerations and how vessels can be retrofitted for these new technologies was explained by ship designers Stig Ole Borgundvåg and Erik Leenders from Kongsberg Maritime.
Access and costs 
Methanol's properties as an energy carrier in the maritime sector is proving very promising. However, access to carbon neutral, green, methanol was still a concern shared by several attendees. To ensure decarbonisation, the transition needs to be towards green methanol. Here, market demand is expected to exceed production volumes for green methanol. The market is currently dominated by gray (fossil) methanol, with more than 100 million tonnes being produced and distributed globally each year.
The price/cost aspect was also important for the operators attending seminar. Robin Tomren, Vice President in Color Line presented a recent project where various fuel options have been evaluated for the RoPax ferries between Norway and Denmark. Use of carbon neutral fuels will be required to be able to comply with both current and future regulations, and methanol has been evaluated as a very feasible option, both with respect to engine technology as well as fuel storage onboard. In the seminar, he explained that the reason as to why they did not move forward with methanol was mainly cost-driven – and lack of information on costs. 
Marius Bergseth from Olympic shipping also shared valuable insight in the complex considerations a ship owner needs to take when choosing the future energy-system for new-builds. Methanol seems a viable option for many cases, and Olympic Shipping have already decided to make some of their new Offshore wind Support Vessels (OSV) methanol ready. The vessels are being built at Ulstein. 
In the coming weeks, there will be new seminars on both fuel options and technologies that boost energy-efficiency, aiming to take the industry closer to achieving the targets defined in the New Blue Deal. 
The cluster raises a thanks to all contributors and participants at the seminar.