We congratulate cluster member ULMATEC with a major walk-to-work contract
From being a subcontractor for gangway solutions, ULMATEC Handling Systems has developed its complete solution. We are glad to share that they have secured a contract for the supply of a motion compensated gangway and logistics support system for Eco Edison, the first Wind Farm Service Vessel built in the U.S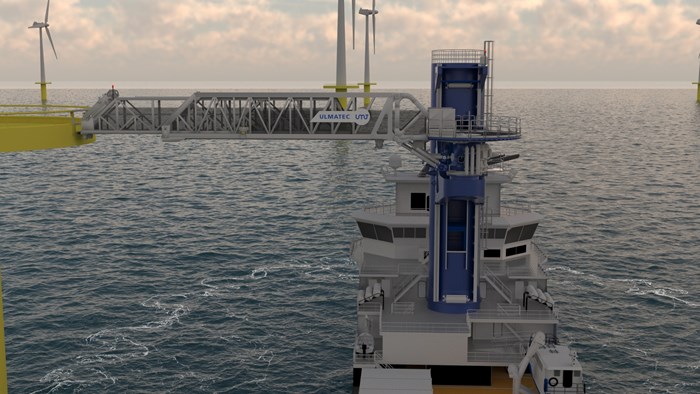 Bjørn Gjerde, sales manager at Ulmatec, states that they have, together with ECO, planned the optimal layout for the vessel and developed several custom solutions, showing the importance of collaboration and the advantages our customers acquire over the competitors.
In the press release, Gjerde also expresses that it is a vital piece of equipment for the vessel and one of the main requirements for uninterrupted service throughout the year in all sea states. Their gangway system is fully DP integrated, assisting the crew in choosing the right access point and route between the wind turbines.
Chief Commercial Officer Bjørnar Huse adds: "This is our first large contract for a gangway and reinforces our efforts in this market. We have delivered cargo handling systems, boat landings, gangway pedestals, and accessories within this sector for over a decade. With the gangway, we have a full product program for handling equipment on an offshore wind vessel. Our service organization can fully support the US market with remote assistance from our engineers in Norway".
"ULMATEC has committed large resources and funds to become a major supplier for comprehensive W2W systems. Our engineers have developed a complete W2W system with leading capabilities for demanding applications. This will have repercussions for both the local community and our employees, as well as significant deliveries from our local vendors, promoting an important chain effect for our region." says Chief Executive Officer Iver Bjørnerem
According to ECO CEO Gary Chouest, Ulmatec has built a reputation as a service-minded and flexible supplier over the years as ULMATEC has delivered multiple systems and equipment to the ECO group.